Welcome to the Big Blues Parties on the South Coast!
The next festivals are:
1, 2, 3, 4 March 2018 and 4, 5, 6, 7 October 2018
60 Great Gigs, 30 Top Bands, 15 Indoor Venues - all for a £10 Support Wristband!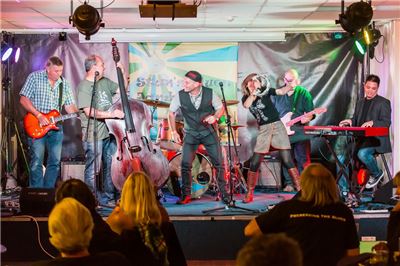 Caption: "And this is a Jam Session!" - Photo by Paul Dubbleman.
Join our Mailing List for Advance News of Sales, Deals and Special Offers!
Organiser Steve Darrington thanks:
The Musicians, Venues, Advertisers and Friends of the Festival, StageLightSound.com, MKL, Violet PR, Ringwood rewery,
Apexweb, GH Print Management, Mark Bauer Photography, Small Planet Music and Swanage Tourist Information Centre
Swanage Blues is a trading name of Blues Roots
Blues Roots is a not for profit company limited by guarantee registered in England 7270783.
Registered Office: Herston Cross House, 230 High Street, Swanage, Dorset BH19 2PQ